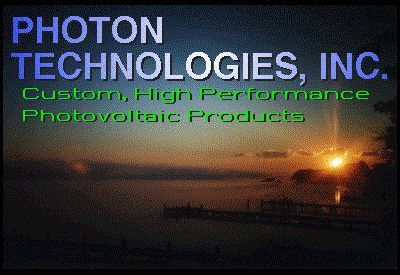 PHOTON TECHNOLOGIES, INC.
P.O. Box 7
Cortez, FL 34215
Phone: 941-795-5225
PHOTON TECHNOLOGIES High Performance Photovoltaic and LED Product Design and Consulting Services
Robert J. Mullgan: Detailed Background & Experience
Project/Product Management: Set up and managed U.S. and overseas Production teams including purchasing, shipping, logistics, manufacturing.

Product Development: Designed new, innovative products to meet both low and high tech markets. Experience: Over 30 years Marketing and Sales Experience including Contracts, Projects, Product Development, Production, Distribution Channels, Product Packaging, Trade Shows. Team Building: Trained and Managed Sales and Project Teams including Administrative, Sales and Marketing with an emphasis on Strategic/Tactical Planning Team Building. Tools: Thorough knowledge of desktop publishing, website design, data sheet, sales promotion, literature, POP displays, packaging and press release design, layout and printing. Traveled throughout the United States, Mid-East and Europe and have a valid passport. Present business activities include the United States, Far East and Europe.

Details on Mr. Mulligan's Experience

Developed three Successful Companies from the Ground-Up.

Extensive background in International Sales and Marketing including Distribution Channels, Product Packaging/Shipping and Letter of Credit/Wire Transfer Payment Banking.

Developed Sales/Marketing Plans in a wide variety of product types.

Developed and Managed Sales Teams including Administrative, Sales Persons, Reps, Marketing Tools and Product Design/Engineering.

Developed new, Innovative Products from the ground-up and implemented Sales/Marketing Systems to Maximize Success.

Comprehensive Knowledge of Marketing and Sales Channels in a Variety of Markets.

Thorough knowledge of Desktop Publishing, WebSite Design, Data Sheet, Sales Promotion, Literature, POP Displays, Packaging and Press Release Design, Layout and Printing.

1992-2021: Owner/Photon Technologies
-Completed an extensive study on Photovoltaic technologies with recommendations for manufacturing and investment to a U.S. based alternative energy investment group.
-Designed and Developed a high brightness solar/outdoor LED lighting product for a large U.S. based outdoor products manufacturer.
-Assisted a California photovoltaic distributor to obtain Florida Solar Energy Center certification for their solar modules and PV systems.
-Completed an investigative report for a U.S. based lighting manufacturer concerning the use, importation and disposal of toxic NiCad (Nickel Cadmium) batteries in the U.S. with an emphasis on Federal, State and local record keeping of these toxic batteries deposited by consumers in landfills rather than recycling.
-Developed this marketing/sales company to Design/Import small photovoltaic solar panels to service the OEM Rechargeable Products Market. (250,000 to 1 Million Small Solar Panels Produced/Sold per Year).
-Consultant to a major U.S. Crystalline Photovoltaic Solar Cell/Large-Format Solar Module Manufacturer including Developing Market Plans, Cost Analysis, Competitive Analysis and Realistic Sales Plans for achieving the Highest Profitable Target Markets.
-Consultant to a major (largest) German Thin-Film Photovoltaic Solar Panel Manufacturer including Competitive Analysis, Market Plans, and Directed/Targeted Sales Plans. Included Sales/Marketing Plans for small OEM Battery Chargers to Full-Size Building Integrated/Net Metering Systems.
-Consultant/Designer-Producer of Custom, Military "Flexible" Solar Panels for Electric Surveillance Aircraft-US. Military Contractor.
-Consultant/Designer for a major US. Satellite Radio Provider to supply Battery Recharging in non-Public Utility Power Supplied Countries.
-Acted as purchasing and shipping coordinator for several overseas producers of photovoltaic products.
-Marketing and Competitive Analysis Consultant to battery, plastic, glass and electrical product producers.
-Designed, Produced 50,000 Solar Chargers for Southern Africa Cell-Phone Communications Company.
-Invented, Developed, Produced 500,000 Solar Garden Lights for a major U.S. Lighting Manufacturer.
-Designed, Produced, 350,000 small DC Motor Drive Solar Panels for a major U.S. Toy Manufacturer.
-Designed, Produced 400,000 small Solar Panels for a major U.S. Military Battery Component Manufacturer.
-Designed, Produced, 1.2 Million small Solar Panels for a major South African Radio Manufacturer.
-Designed, Produced 85,000 small Cell-Phone Solar Recharged Battery Packs for a major U.S. Telecommunications/Cell-Phone Manufacturer.
-Produced Photovoltaic Solar Panels/OEM Products in Germany, China, South Korea, Taiwan with a full knowledge/background of Banking, Representation, Production, Tariffs and other specialty areas to allow a Successful and Profitable Production/Supply of Product to the US. Market.
-Developed Marketing/Sales Plan to sell High Performance Solar Cells to the SunRayce/Formula Sun (University, Cross-Country Solar Car Racing Events) Solar Car Racing Program for a major U.S. Solar Cell Producer. Achieved 7 out of 10 Top Teams in first Year, 37 of the Top 50 Teams in Second Year of Program.
-Designed Websites to allow potential Buyers to View our Product Concepts in an Easy to Read/Understand Format. The Emphasis on using "Spot" Advertising WebSites as Sales Catalogs for Specific Products and Projects. These Sites were designed to be easy to Read, Internationally, by any Computer/Modem Speed, in simple HTML Format, without the need for Fast Computers, Fast Modems or Specialized Programs for Viewing.

1989-1992: Director of Marketing & Sales/AstroPower, Inc., Newark, Delaware.
-Increased sales of solar cells by 500% within a six month period.
-Developed the internal marketing and sales policies which included pricing, specifications, market evaluations, sales plans and product design for solar cells, solar modules and manufacturing equipment.
-Designed and managed AstroPower Solar Race Car Program to provide solar cells, lamination and technical bulletins to Universities participating in the General Motors and international solar car races enabling the company to obtain low cost/high visibility public relations.
-Designed advanced, low-cost solar module production methods and standards.
-Designed and wrote the company sales and corporate profile literature.
-Identified, contacted and verified raw materials suppliers.
-Identified new plastics and conductive materials for use in manufacturing existing and advanced technology solar modules.
-Rewrote Corporate solar module equipment proposal/literature to highlight company's assets and for ease of understanding of foreign buyers.
-Located and negotiated solar cell and wafer cutting subcontractor contract cutting cost by 500%.
-Developed potential customers for mini-arrays (1 watt and under), solar cells, solar modules and production equipment.
-Developed and implemented sales/marketing plan for Canadian subsidiary.

1988-1989: Sales Manager/Consumer Products Div./Solarex Corporation, Rockville, MD.
-Created "Sales Program Team" which channels important sales leads through one organization in a fast, "customer friendly" response system.
-Created innovative product "images" for solar powered consumer products.
-Managed "retail packaged" marine/RV solar module program including developing marketing and advertising campaign, consumer instructions, dealer training, literature, costing/pricing, specialized POP packaging/displays and product "image".
-Specialized in "cold-calls" to OEM's to design and sell new battery charging systems for "consumer" related devices (walklights, refrigeration, rechargeable tools, etc.)
-Completed major revision to sales/production forecasting system which incorporated direct sales/marketing access to mainframe computer/PC's offering instant retrieval of daily sales/production data.
-Developed Apple MAC/PC networking with interface to IBM mainframe for major update of internal statistical reporting as well as offering improved "image" of company newsletters, bulletins and sales manuals.

1986-1988: Owner/Atlantic-Trident Group, Ltd./ATG Solar
-Developed solar modules for the marine (boating) market for resale through mail-order which incorporated specialized advertising, packaging and unique marketing promotions.
-Created Advertising for Ads in six National Sailing/Boating Magazines.

1984-1987: Owner/KIWI Communications
-Developed this telex sending and receiving business (pre-Fax/Email) to take advantage of the high costs and inefficiencies of existing overseas telex companies for the small import/export trading firm.
-Consulted to new import/export firms on "new business start-up".

1979-1987: Owner/Middle East Trade Resources, Ltd.
-Developed this trading company to sell Chain Link Fencing, Barbed Tape and Anti-Terrorist Security Equipment throughout the Middle East (Saudi Arabia, Kuwait, Oman, Emirate Regions). Took advantage of existing major manufacturer's high production costs and successfully underbid them on major supply contracts.
-Annual sales of 3.5 to 4 million dollars for six years.
-Acted as a U.S. based purchasing organization for several overseas construction companies.
-Export consultant to the U.S. Department of Commerce.
-Security Consultant to the U.S. Army COE.
-Scheduled overseas air/sea freight and packing.
-Negotiated Letters of Credit, Assignment of Proceeds and funds transfers.

1973-1979: Anchor Post Products, Inc., Baltimore, Maryland.
-Progressed from Industrial Salesman to Branch Manager to Assistant to the Vice President of Sales to Director-International Sales of this leading ($45 million/annual sales) producer of chain link fencing.
-Developed "Architect" Sales Program which enabled this company to have its proprietary products "specified" by name in new building construction designs.
-Managed the first major effort to sell fencing products overseas and increased sales from $250,000 to $2,500,000 in first year.
-Sold the largest fencing project ($2,000,000.00) in this firm's 87 year history.
-Designed new literature to allow prospective customers to "specify" products without direct salesman contact.
-Career with this firm highlighted by being assigned by parent company, Sunshine Mining (Dallas, Texas) to be an Acquisition Specialist. Assisted parent company to "take over" and reorganize a U.S. based radio crystal company, a commodity trading company in England and complete a feasibility study to build a chain link factory in Saudi Arabia.
Best Regards, and I look forward to your Inquiries concerning how my Consulting Services may benefit your Company...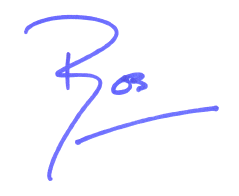 Robert J. Mulligan
For Prompt Service and Answers to your Questions, Please Use the Email Address Listed Below:
Email: photontek@aol.com

"Back to our PHOTON TECHNOLOGIES home page...":