PHOTON TECHNOLOGIES, INC.

PHOTON TECHNOLOGIES can supply you with Small Solar Panels to Recharge the Batteries in your Motorized Window or Skylight Shades, or large format, full size Solar Photovoltaic Glass Laminates to replace your existing Skylight Glazing with Electrical Power Producing Tinted Glass. If you produce Motorized Curtains and Shades, please go directly to this area of our WebSite.
CLICK HERE FOR OUR: Mini-Solar Panels for Motorized Shades and Curtains
For our Solar Photovoltaic Glass Laminates, please review the information below and contact us with your design ideas.
Best Regards,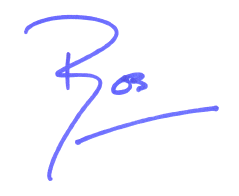 Bob Mulligan-President
PHOTON TECHNOLOGIES, INC.

PHOTON TECHNOLOGIES Semi-Transparent Solar Photovoltaic Glass Laminates can provide an Easy Way to add Electrical Power to your Skylight products.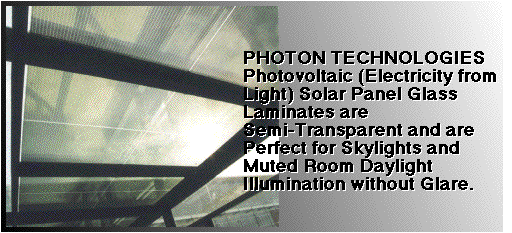 Solar Power Skylight Laminates for Ventilation:
Because the Solar Power Skylight Laminate generates power, as well as provides muted (non-glaring) illumination to the room, it's perfect for directly powering a small Ventilation Fan for pulling hot or stale air out of a room. Since hot air floats to the top of the room, the fan, powered directly from the panel, would do quite a good job of ventilating, with no Hard-Wiring to the public utility line.

When the sun is shining, the Solar Power Skylight Laminate generates power at the same time that the sun is generating heat that needs to be removed from the room.

Good Combination!
Solar Power Skylight Laminates for Night-time Room Lighting:
The same Solar Power Skylight Laminate can generate power to recharge a small rechargeable battery. During the day, the battery would charge and at night, the power generated during the day and stored in the Battery, could be used to power a set of Ultra-Bright LED Night-Lights for interior room illumination or safety night lighting.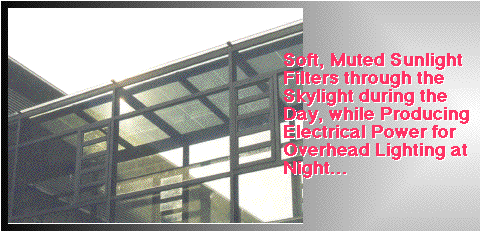 You can Directly Power many types of Consumer and Commercial Skylight Accessories, with: No Hard-Wiring
(No Pre-Wiring or Cutting into Walls for After-Construction Wiring!)
No Electrical Contractors
(No Special Skills Needed!)
No Special Permits
(Low-Voltage!)
No Waiting for other Construction/Installation Trades to show up at your Site
(No Need for Multiple Carpenter/Electrical Trades).


Power for Your Skylights:
If your Skylight product could produce Electrical Power as well as Tinted Daylight Room Illumination, what else could you do with the "Free" Power Generated from our Solar Power Skylight Laminates in your Skylight Frames?
Here are a few ideas:
-Self-Powered Automatic Room-Darkening Shades that retracts into the SkyLight Frame.
-IR Hand-Controlled Motorized Shades and Vent/Skylight Openers to eliminate long floor to ceiling hand-held manual extension rods to open/ & close the Skylight.
-Automatic "Rain" and "Darkness" Detection to automatically close the Vent/Skylight when the Solar Panel current or voltage drops below a certain level. (Note: Rain NEVER occurs on a sunny day so as the current/voltage drops to a certain level due to decreased power output when heavy clouds appear, the vent/skylight will automatically close. This can be over-ridden by a hand IR Controller so that the Skylight can be opened at night.
-Directly Powered Vent Fan that would be powered by the Solar Panel during the day. For an automatic, non-IR Hand Controller vent fan, a small thermostat would be located both inside of the frame to sense a high temperature at the ceiling area, but also have an outside mounted thermostat that would override the signal from the inside sensor so that on cold days, the fan would not turn ON and vent the warm interior air to the outside.
-Rechargeable Battery Powered Vent Fan for ventilation during the day and at night to vent hot air and smoke from cooking/smoking, anytime, night or day. The Fan ON/OFF would be controlled manually from a Hand-Held IR Sensor.
-Directly Powered or Battery (Solar Panel recharged) overhead "Paddle" fan that operates from a 12 volt motor. This overhead "Paddle" fan could be located anywhere on the ceiling and the power transmitted by a thin +/- wire. If the fan had an internal battery which would allow it be used at night as well as directly powered by the Solar Panel Skylight during the day. This would make the Paddle Fan easy to install with no hard wiring other than the small wire from the Solar Skylight to the Fan. It could be controlled manually by an IR Hand-Held Controller.
-Overhead "Night-Lighting" with either Ultra-Bright LED's or small Incandescent/Florescent bulbs as the illumination source. The Solar Panel would recharge an internal frame or Light Fixture mounted battery and then at night the Light could either turn ON automatically to provide low-intensity Night-Lighting or a high intensity room illumination. All with Low-Voltage (12 volt). By using LED's the "Lights" could also be side-view Fiber Optic Tubing to either add a dramatic effect to the edges of the Skylight or to Self-Power long lengths of Fiber-Optic "Rope".
-Overhead Security Cameras can be powered by a frame installed small battery which is recharged by the Solar Skylight during the day. The Security Camera could be used in a warehouse, office or home application where the Camera transmission is transmitted to a central receiver in a secure, "tape-room" area. The Camera could be either on a timer to turn ON/OFF at a particular time or controlled by a Hand-Held IR Controller.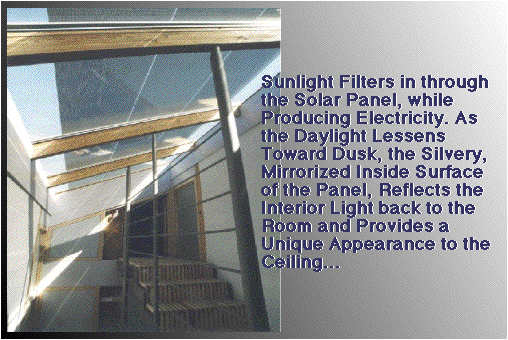 There are many uses for Self-Generated, Low-Voltage power at the ceiling level and our Solar Power Skylight Laminates can provide you with a Low-Cost (costs much less than cutting into existing walls for running high-voltage cables to overhead powered applications).
Our Semi-Transparent Solar Power Skylight Laminates are laminated from two-layer float glass for strength and easy of assembly into your existing Skylight Framing Systems.
Our standard size is 600 mm x 1,000 mm (23.6" x 39.4") but we can make other sizes to meet your specific needs.
Power-Large & Small:
While we provide Semi-Transparent and Opaque Solar Laminates to many VERY LARGE building for High-Power Electrical Generation, the use of a single Solar Power Skylight Laminate in your Skylight allows you to generate a Self-Sufficient DC Electrical Power Supply that can power smaller applications such as Lighting, Ventilation Fans, Skylight Openers/Closers and Security Cameras. The Power can be directly used, for Daylight Ventilation Fans or Skylight Open/Closing, or to Daylight Power and Recharge Small Batteries so the Power is extended into the Night.
We can assist you with any of your application ideas and have many years of experience with Ultra-Bright LED's, Muffin-Fans, Remote Security Camera's and lots of other Low-Voltage products that can be powered by our Solar Power Skylight Laminates.
For a preliminary review of how much power one of our typical Solar Power Skylight Laminates can provide in your Skylight product, below are some preliminary Specifications for your review. All of the Laminates that we use for the Skylight Industry are produced specifically for "12 volt" applications since there are hundreds of products that are made for Cars, Boats and RV's that are already set-up to operate from 12 volt DC power supplies, either directly or from a small 12 volt storage battery.
We can assist you with any Skylight operation or accessory product that you are considering.
Note that since our Solar Power Skylight Laminates are reactive to Sunlight, the brighter the Day, the more power they will produce. While a Southern exposure is ideal, most any installation, even in partial shade, will generate power. We can easily and quickly help you develop a power production estimate so that you can balance your power needs to the type of power that our Solar Power Skylight Laminates will generate for you.
Standard Semi-Transparent Solar Power Skylight Laminate Specifications:
Description:
PHOTON TECHNOLOGIES Semi-Transparent Solar Power Skylight Laminates are used in Skylight, overhead daylight room applications where Electrical Power, in a Self-Contained, Self-Generated product format. This "Self-Power" Low-Voltage Electrical Generation feature, eliminates Hard-Wiring from the Public Utilities sources and can provide Low-Voltage Electrical Power for Lighting, Ventilation, Security Cameras, Skylight Shades and Opening/Closing features. They directly replace the clear or tinted glazing used in existing Skylight Framing Structures and provides a muted, filtered illumination source for building interiors.
Voltage Output:
15.0 Volts
Current Output:
1.66 Amps
Wattage:
25 Watts
Size:
600 mm x 1,000 mm (23.6" x 39.7")
Weight:
12 kg (5.4 pounds)
Thickness:
9 mm (0.35")
Operating Temperature Range:
Any Temperature Range with Minimal Power Loss Effect.
Color:
External color is a Dark Greyish Brown Tint with Silvery Mirrorized Finish on the Inside that becomes more apparent as darkness arrives.
Transparency:
Approximate 10% Neutral Color when viewed from inside during daylight hours.
Electrical Connection:
Simple Positive (+)/Negative (-) Wire Leads from a small Edge Mounted Connector Box or as OEM User Specified. Standard Wire Leads are UV-Resistant (Raychem, Spec 44) with Double-Sheath Insulation.
Qualifications:
Complies with IEC-1215. Electrical Protection Class II and EU Guidelines (DIN EN).
Warranty:
10 Year Limited Warranty depending on your particular Assembly Methods and Skylight Design. We can assist you with assembly ideas that will allow you to easily and inexpensively adapt your production methods to allow for the best power generation longevity.
We look forward to your inquiries on how you can adapt your Skylight products over to our Electric Power Producing, Tinted Skylight systems. It is very easy to do and will offer you a simple way to add Accessory Features to your existing products. Please contact us at the address or Phone/Fax numbers listed above or use the Email Link
CLICK HERE FOR: Additional Electrical Specifications
CLICK HERE FOR OUR: Listing of Projects


Emails to PHOTON TECHNOLOGIES, INC.:
For immediate responses to your Email inquiries, please address your comments
and questions to
Robert Mulligan, President-PHOTON TECHNOLOGIES, INC.

Back to Our PHOTON TECHNOLOGIES Home Page: